The Unofficial, Unscientific, Uncensored 2017 BTSH Previews
Editor's note: The current regime is trying to squelch all dissent. We at Blacktop Lampoon obtained this classified document, leaked by someone on the inside.
Fresh Kills: Roxy is going to be really pissed when she finds out Soko isn't the captain of the Rehabs, and she has to play on Fresh Kills the whole year.
Lbs.: The goalie combo of Eitan/Newman/Boylan is surprisingly efficient and the Lbs. finish the 9th seed and upset the Anklebiters in Round 1 of the playoffs.
Cobra Kai: Cobra Kai starts off hot, goes 8-0, Altman returns for a game, CK never wins again. ;(
Instant Karma: Karma goes 1-17 in Clavicle's swan song, but their one win is vs. Gut Rot. Revenge!! Then they go on to win the championship despite losing in playoff round 2, thanks to a well-timed change to the by-laws which, mysteriously, only received one vote.
Hookers: The Hookers make it back to the finals but lose when long-time ex-Hookers Rachel K. scores an OT goal on a feed from Roberts. Foolishly Cro allowed Eitan/Newman/Boylan to all play goalie at the same time and that is the only goal in wrestling the game after 6 overtimes. Spoiler Alert: The Lbs. are the BTSH Champions! Do I need to continue with the previews?? Clavicle says yes.
Mega Touch: Julie kicks off Adriano, Brady, and the sister from that girl on Math. Julie always wanted to be the best player. Her plan backfires as Hanson has been secretly taking hockey lessons from the kids in Harlem that Bob W. teaches and is now really good.
Rehabs: Sena, Amber, Monique, Cherie, Hayley Wickenheiser, Cammi Granato, Amanda Kessel all lead the Rehabs to BTSH's first undefeated season. However the league votes that two guys must be on the rink at all times and Black Rob is really bad and the Rehabs lose to Math in the play-in game.
Fuzz: Fuzz has a horrible season on the rink, going from 1st to 15th. They play the Rainbows in a play in game and Luisa has a breakaway, but turns around and throws the ball in the net vs. Coach. Fuzz is eliminated. Hicks posts on Facebook that they won the championship. No one has the heart to tell him they didn't. Repeat champions!
Filthier: Filthier has a bounce back season and is poised to once again win the championship! But then Monica returns with Dana, Schuey, and Dan the old goalie and replaces Denis, Suvin, and Tim K. They then realize BTSH sucks and forfeits to Gut Rot in the first round.
Demons: After being one of the most fun teams for the second year in a row, Marissa from WTP realizes aliens stole the old Demons and replaced them with this pretty awesome version. Marissa decides they must all be killed. So she kills them. The South Shore Jewish Y league in Syosset takes their place. They win a few games but then the LIRR increases the rate to Penn Station and they quit the league.
Math: Math kicks off Sara H. because she's too good at hockey. They then kick off Amy for the same reason. They are left with one girl, Rebecca Norris. She's not good at hockey so she can stay. Math amazingly makes the semis playing with just Rebecca as their lone girl and as fate with have it… they play the Hookers! Its late, there's not much time left and… Nathan N. scores!! This time the ref allows it! The final whistle blows and the Hookers win 22-1.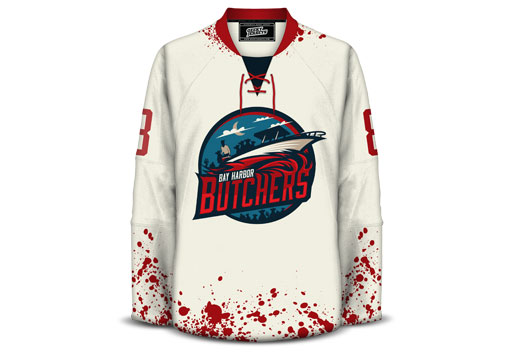 Butchers: Rachel is ecstatic with the addition of Creamy! With JSB rotating with Creamy, the Butchers will never be scored on. But then she realizes neither are particularly good and the Butchers end up only beating Karma and the Anklebiters.
Gouging Anklebiters: Tim B. is struggling in net so the Anklebiters ask Tim K. if he will leave Filthy. Tim K. says of course. After a tough first half they kick him off and add Barch. Eventually every goalie in the league is poached by the Anklebiters except Newman/Eitan/Boylan. Loyalty matters to them. Heroes. Probert announces they are God's Team on Facebook and Hicks likes it.
Sky Fighters: Mike scores a lot of goals, Bob W. cracks a joke and Mia smiles because it is funny. She is immediately kicked off because no one smiles on the Sky Fighters. The Rehabs quickly add her.
Happy Little Elves: another undefeated season!
Poutine Machine: Je m'appelle JoAnne. J'écris un aperçu de ce site Web d'ordures? Je ne fais pas d'alerte BTSH pour Brian Sullivan? Charlotte a volé Rookie de l'année de Alyssa, non?
What the Puck: The league finally figures out that Corey quit three years ago to live with Trevor and Emily in LA. As punishment, the league brings back all the ex-Demons and makes WTP only play them in between the east and west courts.
Gremlins: The Gremmies are focused on bouncing back from a wacky 2016 campaign. To ensure that they don't have to stare relegation in the face again, Mills and Cody have brought on some questionable thugs to do their dirty work. The Mighty Chewalka keeps lobbying for more playing time and the steady Jamie routinely takes to Facebook to lobby for the death of Newman and Eitan so he can get more playing time from teams that actually, you know, score goals. Nonetheless, they fall in Round 2 of the Playoffs at the hands of Haughty Hubris and could care less. #Ha
Dark Rainbows: Rachel, Roberts, Longwell, and Bill all e-mail Abby they are quitting, but Abby is over BTSH after the season ends and doesn't read the email. Danielle high-fives Abby for good email usage. Bernstein and Josh W. wonder where everyone is Game 1. Just kidding, Bernstein didn't show.
Gut Rot: still translates to "good red" whenever mentioned. No one who speaks German could be an evil team!
Riots: Amy brings the team to center rink to talk about her education. Unfortunately the game is still going on and Dave is a freaking wall in net. He makes save after save after save after save… then shoots the ball down and scores! Unfortunately, Ashley is reffing and notices the Riots have all their players at center rink and disallows the goal for too many players on the court. This happens every game.